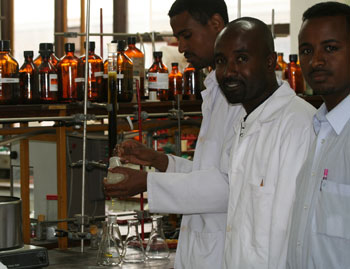 UNESCO provides
a website with details about its science and technology programs in Africa.
The African Union notes
:
S&T funding in Africa is still lower than the 1%GDP as approved by the AU Summit in 2003 even in the richer countries. It seems the problem of funding is not so much a question of limited availability funds but the conviction in the value of such an investment. The return on the investment in S&T is not appreciated by the policy makers and even African industry. The challenge therefore is demonstrated by the means of few examples African S&T innovative projects that have socio-economic impact on the ground.

Still, Africa needs to greatly strengthen ints science and technology capacity. First, it has to improve the health of its peoples and produce more food and other products from its agriculture. It needs an infrastructure -- roads, railroads, power, communications -- that better serves its people. It needs a people who are more scientifically and technologically literate.
UNESCO is helping to build the scientific and technological capacity of Africa, and UNESCO supported projects and networks are helping to fill in the scientific information on Africa's resources and environment/ On 10 October,
UNESCO's Executive Board adopted the Plan of Action for Africa
proposed by the Director General of UNESCO with emphasis on three flagship projects. These are:
the initiative for capacity-building in science policy;

science, technology and engineering education; and

the establishment of an African Virtual Campus.