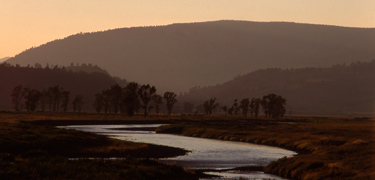 Yellowstone National Park, the world's first national
park and one of UNESCO's first biosphere reserves.
More than 482 sites worldwide are recognized under UNESCO's Man and the Biosphere Program as biosphere reserves. The reserves act as laboratories where biodiversity conservation and sustainable development approaches are tested and developed. They are ideal places to design innovative economic models that benefit local people and maintain cultures, biodiversity and associated values.
Within UNESCO's Man and the Biosphere (MAB) programme, biosphere reserves are established to promote and demonstrate a balanced relationship between humans and the biosphere. Biosphere reserves are designated by the International Co-ordinating Council of the MAB Programme, at the request of the State concerned. Biosphere reserves, each of which remains under the sole sovereignty of the State where it is situated and thereby submitted to State legislation only, form a World Network in which participation by the States is voluntary.
There are 47 biosphere reserves in the United States. They were created as follows:
28 in 1976
3 in 1979
2 in 1980
2 in 1981
3 in 1983
1 in 1984
2 in 1986
3 in 1988
1 each in 1989, 1990 and 1991
none since 1991.
Considering that the National Park Service manages a network of nearly 400 natural, cultural and recreational sites across the nation, it is surprising that there are not more UNESCO recognized biological reserves in the United States. Of course, a part of the reason is that few sites were proposed during the period that the United States had withdrawn from UNESCO.
A distinguished panel of scientific administrators serves as the
U.S. National Man and the Biosphere Committee
, headed by: Dr. Barbara Weber (Chairperson), and Drs. John Matuszak and Michael Soukup (Vice Chairpersons).